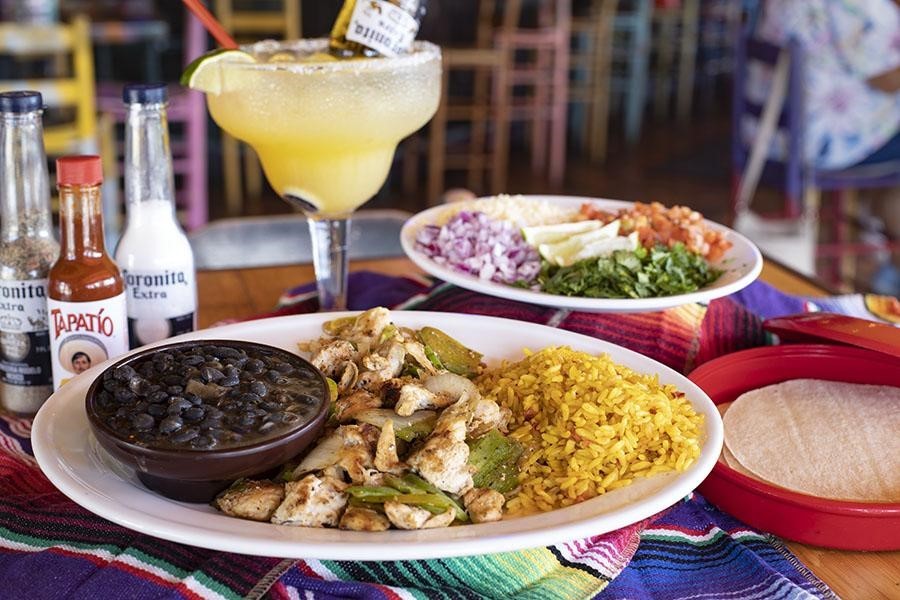 Fajitas may not have a long history, but they are not short of flavor. A relatively new addition to the Nacho Hippo menu, this Tex-Mex favorite has been around for less than a century, but they have made a major splash into the food world. Let's take a look at Fajitas and all their glory!
By definition, fajitas are typically made from short thin strips of meat, green/red/yellow peppers, onions, chilies, and jalapenos all piled onto a flour or corn tortilla. Popular meats are chicken or cuts of beef such as skirt steak. It is also common to see vegetables used instead of meat. Most restaurants cook the meat with onions and bell peppers. Popular condiments include shredded lettuce, sour cream, guacamole, salsa, pico de gallo, cheese, beans, and diced tomatoes.
Fajitas started in the ranchlands of South and West Texas. They were made on a campfire or directly on a grill. The name starts back as early as the 1930s. During cattle roundups, cows were regularly butchered to feed the hands. The hide and meat trimmings such as the skirt were given to the Vaqueros, Mexican cowboys, as part of their pay.
Fajitas stayed regional for many years because of the limited amount of skirt steak available per cow, and since it wasn't available commercially, not many people knew about them. However, in 1969, Sonny Falcon, operated the first commercial fajita taco concession stand in Kyle Texas. Otilia Garza introduced them at Round-Up Restaurant later that same year. Garza is credited with the signature sizzling serving plate.
The food rapidly gained popularity after being introduced to the greater Austin and Houston areas. Thanks to Ninfa's in Houston, Texas, and other places like Hyatt Regency in Austin, Texas the dish started to spread across the country, but it wasn't until the 1990s when Mexican fast-food restaurants started using the word in their marketing that the dish became uber popular. Now, fajitas are so popular you can find them at many American casual dining restaurants as well as in-home kitchens.
At Nacho Hippo, we serve our Hip-jita Fajitas our way. You get to a choice of one of three proteins: chicken, shrimp, or steak. To compliment your protein choice, we serve this delicious dish with sautéed peppers, onions, yellow rice, and seasoned black beans. We serve it with sides of guacamole, pico de gallo, cilantro, onion, pepper jack cheese, fresh lime, and your choice of either corn or flour tortillas. (Are you interested in reading more about tortillas and how important they are to Mexican and Tex-Mex food? Check out this blog about tortillas.)
We are very passionate about our food at Nacho Hippo and we take pride in serving you high-quality, flavorful, and fun foods to our guests. Fajitas fit in very well with what we have to offer at Nacho Hippo. They are a fun, delicious entree ready to please any palate.
Want to read more Nacho Hippo Blogs? Check out our blog page here.
Curious about our other menu offerings: Check out our online food menu here.