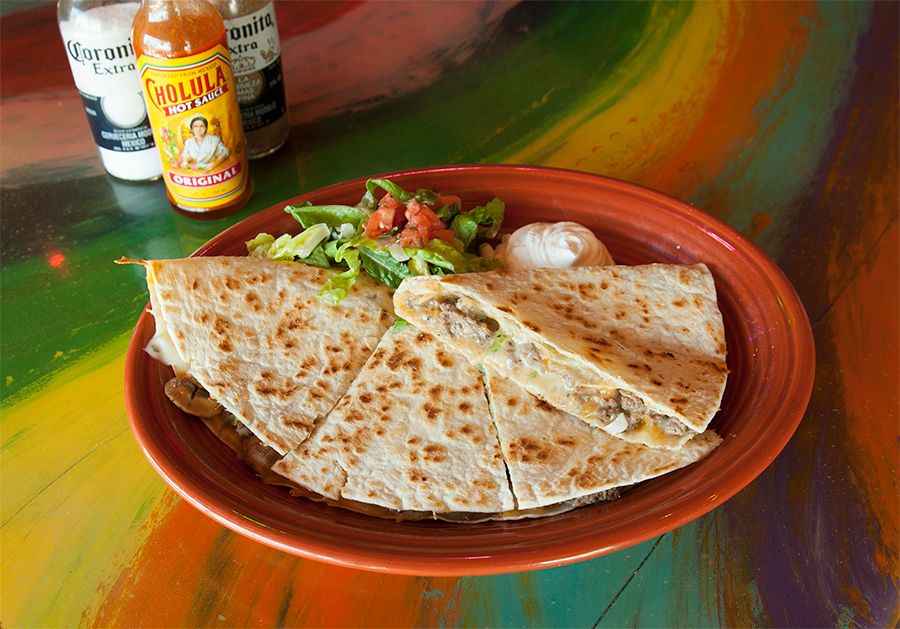 It's early in the morning. The sun won't be up for hours, but Rita the Hippo is in the kitchen searing vegetables, roasting pork, shredding chicken, grating cheese, and making fresh salsa. The tortillas are ready for stuffing but the hard work isn't done. Rita must deliver the delicious quesadillas to all the good boys and girls. Now Rita doesn't have it easy like Santa or the Easter Bunny. Rita works hard 360 nights a year!
Of course, we all know that isn't how it works, but our quesadillas are so good they taste like a gift. Let's dive into where quesadillas do come from.
Like so many items on our menu, quesadillas originated in central and northern parts of Mexico but the food item rapidly spread to all regions of the country. The literal meaning of quesadilla is "little cheesy thing".  The southern regions of Mexico are where we see the first use of queso and stringy cheese-filled quesadillas. The Aztec people were very familiar with corn tortillas and would often stuff tortillas with squash and pumpkin and then bake them in clay ovens as a sweet dessert.
There is a great debate of course of who is responsible for the creation of the quesadilla. Was it the natives, or the Spanish settlers? Turnovers had recently become extremely popular in Europe and the Spanish settlers did bring those with them to Central America as they began to colonize, but the native people had been using corn tortillas for many years before the first Spanish arrived. This may be a debate similar to the chicken or the egg. Speaking of which, both are fantastic in a quesadilla!
What are the most common items in quesadillas? The original quesadillas were filled with various ingredients such as cheese, potatoes, mushrooms, chorizo, chicken, chile poblano, and epazote, a pungent Mexican herb. We don't do a whole lot of things traditionally at Nacho Hippo so our quesadillas are stuffed with everything from sautéed onions and peppers, spinach, mushrooms, seared veggies, mango habanero sauce, shredded chicken, black beans, fresh corn, pico de gallo, grilled steak and queso. Don't forget that we could always add in shrimp at your request.
The next question we need to answer is how to make a quesadilla. It is a very simple item to cook. Traditionally they are cooked on a comal. A comal is a smooth, flat griddle currently made out of cast iron. In the days of the Spanish settlers, they used large, round, and flat rocks that would be heated in a fire or clay cookware. They can also be made on a large skillet or flat griddle, as long as it produces a consistently headed surface. Since quesadillas are traditionally cooked without using any oil to make them crispier, the comal or flat griddle is the perfect cooking surface. Put a tortilla directly on the cooking surface, load it up with toppings, wait for the cheese to start to melt, fold it in half and flip it over to toast the second half and you are done! Service with a side of pico de gallo, salsa, and or sour cream for extremely satisfying taste buds.
At Nacho Hippo we make five different quesadillas. Our Good Stuff! It is crammed full of a blend of cheddar and Monterey Jack cheeses, sautéed bell peppers, and onions. You have the option to add a protein if you like. The Popeye takes inspiration from everyone's favorite cartoon sailor. We stuff sautéed spinach, mushrooms, mixed cheese, and seared veggies into this flavorful quesadilla. We can also add chicken or shrimp if you are interested. The Ring o' Fire offers slow-roasted pork with pepper jack cheese, onions, peppers, and mango habanero sauce. Our What the Cluck! Quesadilla is filled with shredded chicken, fresh corn, black beans, mixed cheeses, and pico de gallo. Last but certainly not least, the Philly Steak is a tasty blend of grilled steak, mixed cheese, peppers, onions, mushrooms, and queso. No matter how you slice it, these quesadillas will satisfy your hunger and your flavor cravings.
Sure Myrtle Beach's Nacho Hippo is known for its amazing signature nachos, and fantastic tacos, but if you haven't tried one of Rita's Quesadillas yet, you are shortchanging yourself. We strongly recommend you stop by soon and give one of these amazing choices a try. We can even make you a margarita to go with it!