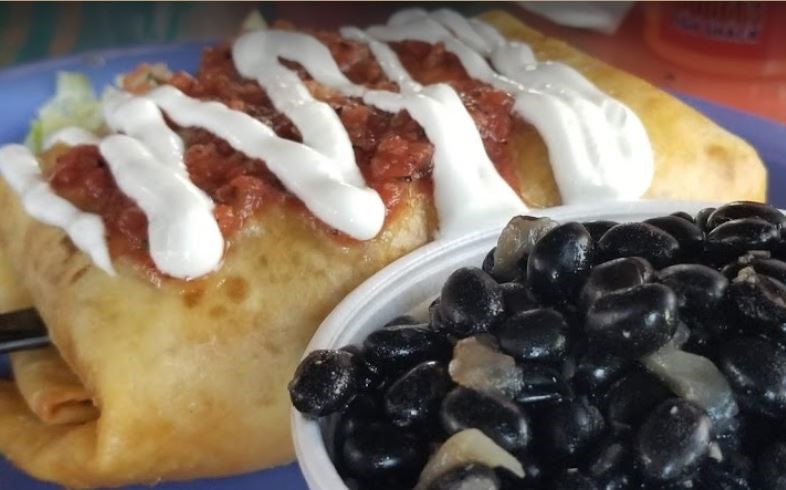 If you follow the menu from the beginning, the first options you will stumble across are on our appetizer sections. The Salsa Sampler and Holee Guacamole are two excellent options to start with. Our Salsa Sampler features our fire-roasted salsa, salsa verde, and mango habanero salsa. The Holee Guacamole features, you guessed it, guacamole blended with tomatoes, onion, and fresh cilantro.  Both offerings come with our fresh house-made tortilla chips and are a great way to start your meal!
Chimichangas have been around for about a century. The most popular theory goes back to the 1920s to a restaurant in Tucson, Arizona. El Charro was a very popular Tex-Mex style restaurant. The story goes that one day Monica Flin accidentally dropped a burrito into the fryer. She instinctively began to mutter a Spanish swear word before remembering that nieces and nephews were running all around the restaurant. Monica quickly changed course to a nonsense word. The Chimichanga was born!
Several other stories are claiming this creation, but they all share the theme of accidentally dropping a burrito. Other stories blame a collection of cooks that after a few too many tequila shots decided that the only thing better than a burrito is a Fried Burrito.
Which brings us to an important point: what exactly is a chimichanga? A chimichanga is an evolution of a Mexican culinary tradition mixed with American culture. The chimichanga is one of many tortilla-based dishes. Tex-Mex connoisseurs will yell at you if you call a chimichanga a deep-fried burrito, but it isn't far off. Yes, there are enough differences to be considered its own unique item, but it is hard to ignore the similarities.
Deep-fried = chimichanga. Not fried = burrito. Chimichangas are rarely served with vegetables whereas burritos tend to be filled with rice, vegetables, and beans as the fillings. Because they are deep-fried, chimichangas are typically served on a plate with utensils, where a burrito is typically eaten with your hands….just not at Nacho Hippo because of all the AMAZING queso dripped all over it. Chimichangas are also typically topped with layers of sauce and melted cheese.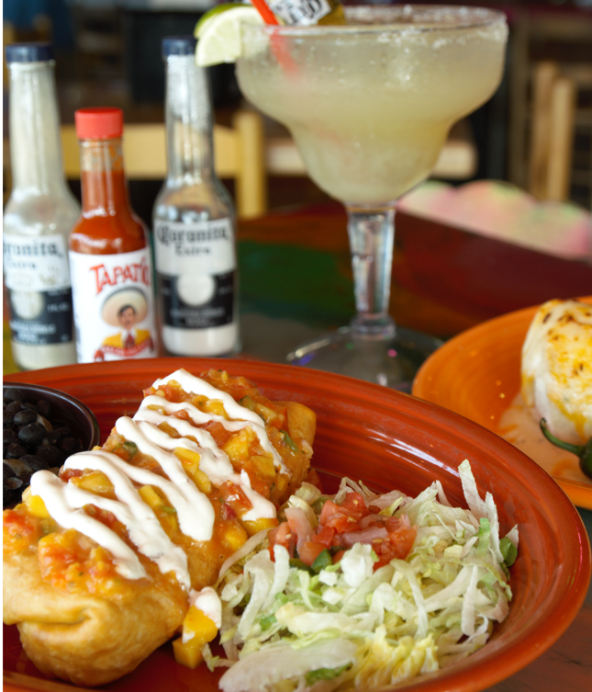 At Nacho Hippo we have our play on a chimichanga. That shouldn't give you any surprise. We do everything our way! Our Chimi – Chimi – Bang – Bang is served with shredded lettuce, Pico de Gallo, sour cream, and your choice of yellow rice or black beans. From there you have to make some choices. Our versions of a chimichanga are offered in three ways. You have the options between three different meat and cheese combinations. The first choice is Chicken, Blended Cheeses, and Mango Salsa. Choice number two is Slow-Roasted Pork, Blended Cheeses, and Salsa Verde. The final option is Taco Beef, Blended Cheeses, and our Fire-Roasted Salsa.
Regardless of which option you choose we are sure you are going to love the Chimi – Chimi – Bang – Bang! But if you are looking to avoid the fryer you could always order the burrito.
If you want to read our Burrito blog, check it out here.
Check out our other menu items here!