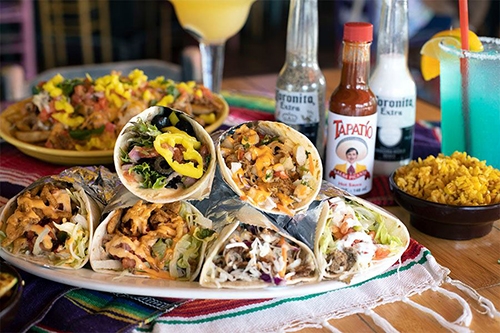 It's that time of year again. Thanksgiving has passed and we spent the whole week being thankful for all the gifts and blessings the year has given us. Sometimes a week doesn't feel like enough to appreciate all that we have been given. Now we are rapidly approaching the Christmas Holiday and we couldn't help but think of the things we would like to have for Christmas. Of course, they are food items and we want to share those with you!
Opening the Nacho Hippo menu is kind of like opening a Christmas Toy Catalog but instead of deciding which toys you want to play with, you get to indulge in the pleasures of the amazing food flavors you can only find at Nacho Hippo. Your taste buds will go crazy waiting the short amount of time from placing your order until your food arrives, just like young children do this time of year waiting on Santa to visit!
So what do we want for Christmas…..Let's start with some Grilled Corn on the Cob. Delicious grilled corn, drizzled with sour cream and spiked with Cajun seasoning and queso fresco. Just enough to get you started on the flavors that make your mouth water, but not so much you don't get to truly enjoy the rest our menu has to offer.
What about the other people at your table. They might be hungry too right? How about sharing the Salsa Sampler? Fresh tortilla chips served with our delicious fire-roasted salsa, our mouth-watering tomatillo salsa, and our mind-blowing habanero salsa is made to be shared!
Next up: TACOS. We recommend you try them all, but for this blog, let's just focus on two. We think you should start with the Love You Long Time Taco! A perfect amount of fried chicken tossed in a sweet Thai chili sauce garnished with pineapple salsa, mixed greens, spicy mayo, and cashews. It will please your taste buds and make your stomach just as happy.
We get lots of questions about vegetarian-friendly options on our menu. The Veg Head Taco was created for you! We pile hummus, mixed greens, banana peppers, black olives, pico de gallo, and cilantro lime vinaigrette onto your choice of a griddled flour tortilla or soft or hard corn tortilla.
Maybe you are interested in something flatter? We are completely on board with that idea. How about one of Rita's Quesadillas? With five options to choose from, you can't go wrong with any one of these heavenly options. The What the Cluck! Quesadilla features a large flour tortilla stuffed to the rim with shredded chicken, fresh corn, black beans, blended cheese, and pico de gallo and is served with shredded lettuce and pico de gallo on the side. If you like, we can even provide you with some fire-roasted and/or sour cream at your request. This is a fantastic combination but we do have several other options to keep you satisfied as well. The Good Stuff!, Popeye, Ring o' Fire and Philly Steak quesadillas are all just as delightful.
How about something different? Ok so not outlandish for Nacho Hippo, but delicious none-the-less. The Chimi-Chimi-Bang-Bang is here with an aggressive commitment to flavor. Served with shredded lettuce, pico de gallo, sour cream and a choice of yellow rice or black beans this Chimichanga can be stuffed to your liking. Chicken, Monterey Jack cheese, and Mango Salsa… We can do that!  Slow-roasted pulled pork, blended cheeses, and salsa verde… Comin right up! Beef, cheddar, and fire-roasted salsa… You got it!
While we are on the topic of wrapped up things, the Sloppy Burritos are another fantastic option! We stuff a tortilla with yellow rice, black beans, pico de gallo, sour cream and then cover it in queso cheese. But that isn't all we fit into the burrito. You get to choose between chicken & Monterey jack cheese, slow-roasted pulled pork & Monterey jack cheese, taco beef & cheddar cheese, or seared vegetables & queso fresco. Regardless of the flavor profile, you are looking for, the Sloppy Burritos can satisfy your craving. You can even ditch the tortilla and have it served in a bowl!
On to the NACHOS! While your choices are not limited, we suggest diving into a shareable plate of Hungry Hippo nachos! Taco beef, shredded chicken, blended cheeses, queso, black olives, cilantro, lettuce, and pico de gallo make for a fantastic blend of flavors piled on top of warm tortilla chips. Looking for something with a bit more kick? Check out the Fire in the Hole nachos, but make sure your glass is full before you dive in! The blend of chili, pepper jack cheese, queso, jalapenos, mango habanero sauce, lettuce, and pico de gallo will make you thirsty for sure.
Don't forget a drink to go with it all. Perhaps one of our "Frosty Margs" or a "Hip-Jito". Either way, they pair nicely with every item on our menu. Even with our delightful Churros! No matter what you choose to order, we think your Christmas will be brighter with Nacho Hippo.
If you can't come to see us, then get yourself some gift cards for when you can! You can order them online here: https://divinedininggroup.cardfoundry.com/giftcards.php
Now we want to know, what is it you are hoping to get this year for Christmas?