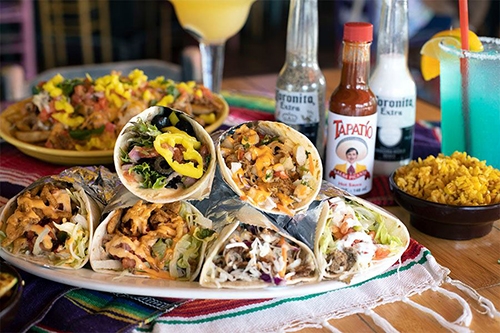 Yep! We said it! With fall right around the corner and kids back in school, for the most part, we know the next string of memes/photos that will be hitting our social media feeds. Yes….it is time for the pumpkin spice themed memes to bombard us from every direction. Here at Nacho Hippo, we stand firm and say Tacos are not only better but more important than Pumpkin Spice Lattes. Here is why we think that way!
1. Tacos as we know them today started becoming popular in the 1880s when Mexican immigrants moving to Texas and California began sharing tacos with their new neighbors. Tacos started essentially as a street food since they were inexpensive and extremely portable. But the tortilla, made from corn or flour has been around for generations prior to the introduction to the United States. On the flip side, the Pumpkin Spice Latte that Starbucks made famous has been around less than 20 years.
2. Tacos have more variety! Chicken, beef, pork, shrimp, fish, vegan, and more! The combinations you can create with tacos are unlimited. Do you know how many configurations you can get a Pumpkin Spice Latte? Just one. Tacos win again. 
3. You can get Tacos year round! This is a win period. No waiting around to find out when they are going to be released again, or where you will be able to access them. No waiting in long lines and having someone spell your name wrong on a cup. Just tacos, warm and ready all day every day. 
4. Tacos for breakfast, lunch, dinner, and/or snacks! Ok so this one is a tie, but we still vote tacos.
5. You can put bacon in tacos. You can't put bacon in coffee. Tacos win this round also! 
6. Tacos are good for people of all ages! 2 years old, give them a taco! 30 years old, give them a taco! 75 years old, give them a taco! While it seems to be more socially acceptable in recent years to give younger people coffee, it hasn't always been that way. Tacos don't discriminate on age. Another win for tacos! 
7. Tacos can warm you up on a cold day. Just look at our Ka-Ka-Ka-Kia taco. Grilled steak glazed in a soy garlic ginger sauce, kimchi, spicy chili sauce, and sesame seeds. It's like a spicy party in your mouth. Fair point that a hot Pumpkin Spice Latte can warm you up also, but we never said this would be a fair comparison…..so 5 points for tacos! 
8. Those are some really good reasons why Tacos are better than Pumpkin Spice Lattes. If our math is correct, and of course we know it is, the points stand 715 for tacos, 0 for Pumpkin Spice Lattes! Of course, tacos win.
How could tacos not beat out a brown drink in a styrofoam cup? We love tacos at Nacho Hippo and so do our guests! When you look at our menu, it is not hard to understand why. With offerings like Mrs. Daisy (features fried green tomatoes, mixed greens, pimento cheese, spicy may and slivered red peppers), The Carolina Kid (features slow-roasted pork, slaw, and sweet celery seed dressing), and of course don't forget the Kamikaze (features seared tuna, mixed greens, seaweed salad, and wasabi cucumber aioli), we have tacos for everyone! Even if you are just looking for a traditional taco, our Gringo still gives you plenty of choices to create a taco you want and fulfill that taco craving. Looking to make a whole meal out of it? Mix and match your favorite tacos and then make it a platter! Whether you want one taco or 20, add a side of yellow rice, seared veggies, and/or black beans to round out your plate. 
We hope you have enjoyed, or at least laughed a little about our comparison. We look forward to serving you some tacos right here in Myrtle Beach soon!