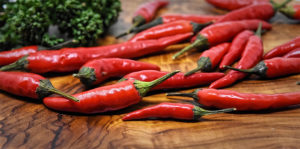 Just the mention of Mexican food is enough to get most people excited but what are the first ingredients that come to mind when you think of Mexican foods? Of course taco beef, corn, tomatoes and onion pops into mind. However, the three most common in Mexican cooking are 1. Avocado – used to make both salsas and guacamole, 2. Beans – a common filler and side dish, and finally, and maybe the most important 3. Chilies – the primary flavoring ingredient. This month we are going to take a look at that primary flavor and why it is so important.
While one could easily argue that corn is the most important ingredient in Mexican foods (corn is the main grain and is heavily relied upon to make tamales, tortillas, soups and many other dishes), the chili is responsible for the flavor that we all know and love. Even the seasoning packets most people use at home for convenience use chili powder as one of its main ingredients.
Indigenous to Mexico, the chili pepper has been part of the cuisine for the better part of a thousand years! For good reason, they have become an integral part of the Mexican flavor profile. There are many types of chilies. Most people are familiar with the spicy jalapeño, the aromatic ancho, the hot habanero, and the fiery serrano. Each chili brings a special and unique flavor to a dish. Chilies are used in a variety of recipes, from soups and sauces to salsas and many more. In traditional Mexican cuisine, many dishes are designated by their sauces. Something we have mildly followed when naming items that make it to our menu, for example, our Sriracha-Lime Chicken.
At Nacho Hippo we have become quite creative, but we aren't afraid to stick with what works. We stand by the high quality and flavorful jalapeños and habaneros. Hailing originally from Xalapa, the capital city of Veracruz, Mexico, the name jalapeño is actually a Spanish word. Jalapeños were in use by the Aztecs long before the Spanish conquest. It is documented that the Aztecs hosted markets selling smoked jalapeños, known today as chipotles. The use of fresh and smoked jalapeños goes back hundreds of years and today there are approximately 100,000 acres in Mexico specifically dedicated to growing jalapeños. This accounts for thirty percent of Mexico's chili production. Even though there has been a decrease in total acreage used for jalapeño farming, there has been an increase in yield thanks to better farming techniques being used in the region. You can sample jalapeños in several of our Signature Nachos as well as some of our sandwiches.
The habanero is thought to have originated in the Amazon and spread to Mexico. We at Nacho Hippo are very thankful that this is one of the many things the Amazon has brought to the world. We think anyone that has tried our mango habanero salsa will agree! However, we will take a minute to ensure you do not spell it with the 'ñ'. This chili pepper does not follow the same spelling or pronunciation pattern of a jalapeño. The habanero has a history stretching back at least as far as 6500 BC, but we can again thank the Spanish Conquistadors for helping to distribute this flavorful, yet spicy pepper world-wide. Today, the Yucatan Peninsula in Mexico is the largest producer of the habanero, but there are several other areas that are helping to fill in for the demand. In 1999, Guinness World Records listed the habanero as the world's hottest chili pepper, but that has quickly changed with the introduction of a few peppers you won't find on our menu. We want you to be able to taste your food.
If you are looking to sample how the habanero has impacted our menu, you have many options! We offer a Mango Habanero Salsa as a sampler with tortilla chips, in our Ring o' Fire Quesadillas, and all over our Signature Nachos!
So if you are looking for a whole lot of flavor with a little bit of history, come see us at either of our locations (or both!); Market Common and North Beach Blvd across from Barefoot Landing. We have a menu full of palate pleasers just waiting for you to get excited about.