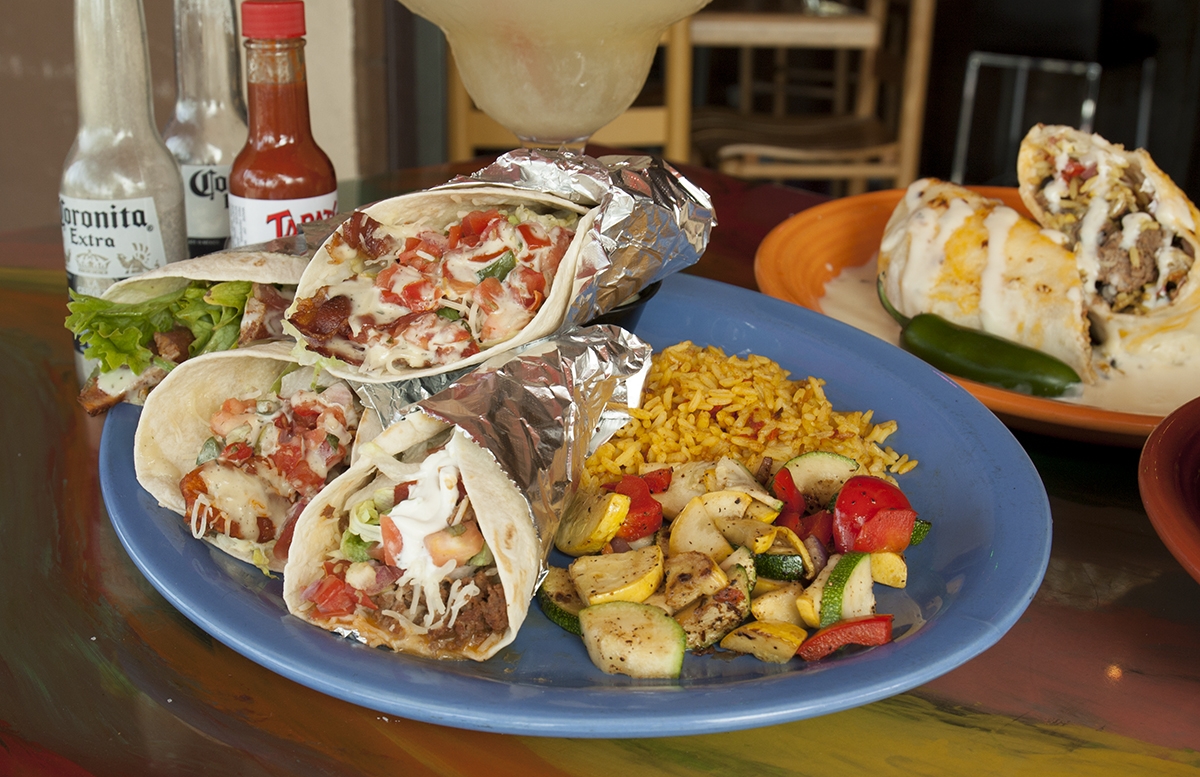 "Welcome to Nacho Hippo!" It is one of our favorite things to say! We love to welcome our guests into the restaurant and to their tables. Our restaurants have been welcoming both local guests and visitors from all over the world for several years now. A few years ago we published a FAQ blog to help guide our guests and answer some of the most common questions that come up. In order to best serve our guests, we think it is time to revisit and update that topic. So here are 15 updated FAQs about Nacho Hippo to help you before you come to dine with us!
What type of dining experience can you expect?
We have two very different dining areas even though we offer the same menu at both locations. Both offer a fun, fiesta based vibe that provides an open air experience. On warmer days, our North Beach location will roll up the doors to create an outdoor restaurant feel complete with an outdoor stage, picnic tables, low top and high top tables and full service bar seating. The Market Common location is a more indoor style restaurant but we do have patio seating that overlooks the lake, as well as the indoor/outdoor feel with a private dining area.  The indoor area offers booth seating, low top and high top tables, and a full service bar seating area. Regardless of the location you choose, we hope you will enjoy the causal, laid back, family friendly environment we have created for you.
2. Do you take reservations?
We do not. We pride ourselves on being a first come, first serve restaurant. However, if you have a large party or are planning to bring a large party, give us a call ahead of time so we can work to accommodate you the best we can. While calling ahead does not guarantee seating upon arrival, it does help us be more prepared to provide you with the experience you deserve. Looking to take an order to go? We can absolutely accommodate you. Looking to feed a large party at an event? Give us a call, we can tailor a large party carryout option to just about any budget.
3. Animal friendly restaurant?
Even though we proudly host a hippo for our mascot and have patio seating at both locations, we do not allow animals on our premises. There are some very wordy restrictions and regulations put forth by DHEC that we must follow in order to allow pets that we simply cannot comply with at this time. Service animals are permitted and always welcome.
4. What type of dining areas do we provide? Private dining available?
Beach oriented and family oriented. Our guests are our family so we want to ensure you are comfortable. Tables, booths, and patio/porch style dining. All different based on the location. You will even find some corn hole boards waiting on you to occupy your time if there is a wait.
5. What our hours of operation?
We open every day at 11:00 am and close at 10:00pm.
6. What type of food can you expect?
We have labeled ourselves as a Mexican Cantina. But we haven't specifically limited ourselves to traditional Mexican fare. We are a good blend of Mexican, Tex-Mex as well as host to some traditional Mexican dishes with our own personal flare added in. We are best known for our "Best of the Beach" nachos. A dish that has hundreds of possibilities if you choose to create your own! We also have quesadillas, tacos, burritos, sandwiches and appetizers. We have some deserts! Just because they are on the back page of the menu doesn't mean they are less important!
7. Are there kid's menu options?
Absolutely! Our kid's menu has appropriately sized meals such as Soft or Crunchy Beef or Chicken Tacos, Cheese Quesadilla, Beef and Cheese Nachos, Chicken Tenders, or a Corn Dog, all served with fries or applesauce and a kid's drink.
8. Gluten Free Options? Allergy Accommodations? Vegan or Vegetarian Options?
All of our food is prepared in a common kitchen, but we do offer several options for those looking to follow a gluten sensitive lifestyle. We have plenty of nacho and taco creations that can be whipped up for those following a vegan or vegetarian diet. Of course, we can always toss up an amazingly fresh salad if those other items don't fulfill your craving! As for allergies, please note that Nacho Hippo currently utilizes ingredients that contain milk, soy, wheat and flour and peanuts. We also use vegetable oil in the fryers. Please contact us ahead of time if you have other concerns and we will do our best to accommodate your needs.
9. Do we offer carry out or delivery options?
We can make EVERYTHING To-Go! We would be happy to prepare your meal for you to take home. Just give us a call to place your order and then come pick it up! Have a larger party? We can make something work for you! Give us a call and let us fulfill your large party carry out. 
10. Are we social? How can you follow us?
You bet we are! You can find us on Facebook @NachoHippo. Find us on Instagram @nachohippomb. You can even interact with us on SnapChat! Find us at @nachohippomb. We would also love for you to leave us a review on Google, Yelp! or Trip Advisor. We want to get as much feedback as we can from our guests. It helps us work towards sharing our passion to provide the perfect dining experience to every guest every day.
11. Do we serve alcohol or have a bar?
We do! Both of our locations offer a selection of liquor drinks, beer, and wine. We have various bar seating depending on location and would be happy to serve your meal at the bar if that is what you prefer. We strongly recommend the Hip Bucket! These drinks are perfect for sharing and provide you with a souvenir to take with you!
11. Do we offer specials or a happy hour?
At this time, we are not offering specials or happy hour. However, during certain times of the year we do offer some seasonal specials that may pique your interest.
12. Live music? Trivia?
Our nachos may make us want to break out into a conga line, but you may appreciate the live bands we feature at our North Beach location most Friday and Saturday nights. We occasionally host live music options at or Market Common location but, not as frequent. Check out the events section on our Facebook page to keep up to date of who, when and where. 
13. Merchandise for sale?
Yes, yes and more yes! Hats, t-shirts and sweatshirts. They make much better gifts than a box full of nachos…maybe.  Don't forget the Gift Cards! You can order them online before you visit by going to https://divinedininggroup.cardfoundry.com/giftcards.php. Use them on food, beverage and/or merchandise!
14. Where can you find us?
We have 2 fantastic locations to serve you. You can find our North Beach location across from Barefoot Landing in North Myrtle Beach. The address for that location is 850 North Beach Blvd, North Myrtle Beach, SC 29582. You can find our southern location in the heart of Market Common. Our address is 1160 Farrow Parkway, Myrtle Beach, SC 29577. Parking at this location is a hosted in the parking garage directly behind our restaurant. There is plenty of parking for your entire ball team and or family!